The 3rd Editorial Board Meeting of Gynecology and Obstetrics Clinical Medicine(GOCM) Held Successfully
Published 23 February, 2023
The third editorial board meeting of Gynecology and Obstetrics Clinical Medicine (GOCM) was successfully held on February 19, 2023, which include two sessions: Beijing editorial board  & academic exchange symposium from 2 p.m. to 5 p.m in Peking University People's Hospital and the third editorial board meeting from 8 p.m. to 10:30 p.m online (Beijing time).
In the first session, the opening ceremony was presided over by Prof.Wang Jianliu, chief-editor of GOCM . A total of 27 members from Peking University Health Science Center (PKUHSC), Industry Office of PKUHSC, the Chinese Medical Association, Peking University People's Hospital(PKUPH) and the editorial board members from Beijing attended the symposium.
Firstly, Prof.Wei Lihui, honorary editor of GOCM, Dr.Xiao Yuan, Deputy Director of PKUHSC; Mr.Pan Yisheng, Director of Industry Office of PKUHSC; Dr.Zhao Xiangyu, vice president of Peking University People's Hospital; Mr.Wei Junmin, President of Chinese Medical Journal, gave opening address respectively, to acknowledge and express expectations for the work of GOCM.
Secondly, Dr. MingzhuLi, editor of GOCM reported the summary of GOCM2021-2022 and plans for 2023, Dr.Chen Ke, executive director of The Innovation, Dr.Ren Yangang, director of Medical Review, Dr.Hao Xiuyuan, director of English Edition of Chinese Medical Journal, shared their valuable experience respectively and put forward many valuable suggestions.
Finally, the experts present gave many good opinions on how to run a successful journal, from publicity and planning to how to improve citation. GOCM will live up to its expectations and strive to be an international first-class journal.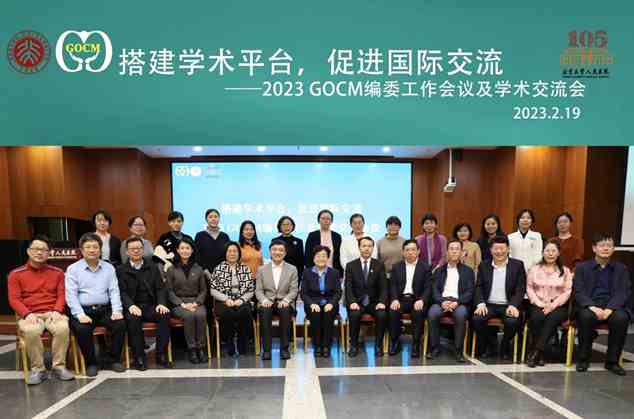 In the second session, Prof. Sun Xiuli, chairman of obstetrics and gynecology, PKUPH presided over the opening ceremony. The editor-in-chief, Prof. Jianliu Wang delivered the opening speech. Prof.Wang welcomed the experts and gave thanks to attendees. With the support of the editorial board members, GOCM healthy developed, and will have a bright future.
Next, Prof.Wang summarize the word of 2022 and express heartfelt thanks to all the contributors and reviewers, for their strong support to GOCM, also had an Award Ceremony afterwards.
In special issues discussion, five topics including Ovarian cancer-treatment option, minimal invasive surgery, HPV related disease, pelvic medicine: native tissue repair, challenge and new insights of maternal fetal health and exploration of PCOS were discussed byprofessor Jae-Weon Kim, Shengtao Zhou, Resad Paya Pasic, Xiaojun Chen, Chengquan Zhao, Pengming Sun, Yongxian Lu, Xin Yang, Carl P. Weiner, Afshin Azimirad, Huixia Yang, Antoine Watrelot, Jing Guan and Qun Lu,et al.
The conference came to a successful conclusion in a warm and friendly atmosphere. After the meeting, attendees expressed their congratulations on the successful holding of the conference,  and wish GOCM further progress!