Peer Review Week 2021 – KeAi reviewers share their thoughts on this year's theme 'identity'
已发布 20 九月, 2021
Peer Review Week (PRW) is an annual event designed to recognise the unsung heroes of academia – the millions of researchers around the globe who, despite research and/or lecturing commitments, still find the time to review.
The past 12 months have proved particularly challenging with many forced to juggle those reviewing roles with new COVID-19 ways of working and teaching, or even homeschooling requirements.
This year's PRW, which takes place on 20-24 September, will focus on personal and social identity in peer review and the ways in which the scholarly community can foster more diverse, equitable, and inclusive peer review practices.
At KeAi, we are enormously grateful to the tireless efforts of our reviewer community, who have not only helped us enhance the scope and quality of our existing journals, but also launch new titles. So, we asked them for their thoughts on reviewing and this year's PRW identity theme. Here's what they had to say: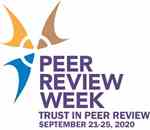 On how peer review has helped them grow…..
For many, including Dr. Ovokeroye A. Abafe of the Agricultural Research Council, South Africa, peer review has offered them the opportunity to build their knowledge and skills.  According to Dr. Abafe, who reviews for Emerging Contaminants: "It has also provided some recognition in my field."
For Prof. Guoqing Guan of Hirosaki University in Japan, reviewer and Associate Editor of Carbon Resources Conversion, reviewing offers a unique glimpse into the way that colleagues work and think: He adds: "As a non-native English speaker, it also helps me improve my English writing skills and organise my own paper more logically."
Many of the points that Prof. Guan raised rang true for Dr. Emma Louise Robinson of the US' Anschutz Medical Campus University of Colorado and Consortium for Fibrosis Research Translation (CFReT), Aurora. She believes her roles as editorial board member and regular reviewer for Non-coding RNA Research have improved her own scientific manuscript writing skills. "It is much easier, as an outsider to a piece of work, to see shortcomings in experimental design, the scientific model, figures or how the work is communicated. I then turn these same criticisms to my own work."
For experienced reviewer Cuie Wen, Editor-in-Chief of Smart Materials in Manufacturing and Professor in the School of Engineering at RMIT University in Australia, the benefits of reviewing are much more personal: "Peer review helps me grow and understand the values of public service."
Our interviewees also point to the fact that reviewing has improved their time management skills, increased their subject knowledge, or inspired their own research choices.
Dr. Di Wang, a researcher at the Technical University of Braunschweig in Germany, edits and reviews for several titles, including the Journal of Traffic and Transportation Engineering. For Dr. Wang, peer review has proved a treasure trove of opportunity. He explains:  "When I was a fresh reviewer, peer review helped me to understand the editor structure and publication flow in a specific journal, it helped me to navigate my work to the correct destination wisely. Peer review has also widened my scientific network and helped me identify potential research directions and partners."
On the lessons they've learned and their tips for new reviewers….
With so many demands on your time, it's easy to see a review request as one task too many and turn it down. But all our reviewers agreed that it's important to say yes, wherever possible. For Prof. Guan, a request to review should be viewed as an "honour". For Prof. Wen, it's an opportunity to repay the academic community.
However, nearly all our interviewees added a word or two of warning. According to Professor Alexander Brem of the University of Stuttgart in Germany, an active reviewer for Global Transitions, it's important to ensure that the "topic is in your key domain of interest and knowledge. Only then will you be able to provide an excellent review. This is not only true for the topic, but also for the methods."
A popular piece of advice from our reviewers was to be honest with yourself – and others – about whether you have the time to do a good job and submit your review by the deadline. With many of them also occupying editing roles, they know only too well the impact of a late review on the publication process.
Equity, in terms of delivering a 'fair' review, was also top of mind for many. Wai Kwok Kelvin Yeung, a tenured professor in the Department of Orthopaedics and Traumatology at the University of Hong Kong, is an Associate Editor of Bioactive Materials.  He describes himself as "still very junior in my reviewing career", but always strives to look at each submission in terms of its scientific merit and be fair to each paper, "regardless of who the authors are".  
It's a sentiment shared by Prof. Dawei Wang of Harbin Institute of Technology in China, and RWTH Aachen University in Germany. Prof. Wang has been recognised as an "excellent reviewer" by the China STEM Journal Excellence Action Plan and regularly reviews for Journal of Traffic and Transportation Engineering. He believes: "The first thing is to learn is to be neutral and objective. To ensure that you are not influenced by personal factors and external circumstances."
For Prof. Yongjin Zhou of the Dalian Institute of Chemical Physics at the Chinese Academy of Sciences, who reviews for Synthetic and Systems Biotechnology, it's not only about being fair, but being constructive too: "You should try your best to help the authors to improve the paper during the review process."
But as Dr. Di Wang notes: "Do not re-shape the paper too heavily with your own ideas."
Both Dr. Wang and Dr. Robinson talk about the value of reading and learning from other reviewers' comments. Dr. Robinson says: "If they have similar comments, that can reinforce confidence in your ability to critically assess manuscripts. If they have some different remarks, it means maybe you picked up on things others didn't, not that you made a mistake. Take note of the overall recommendation to the editor from other reviewers and the final decision made by the editor." She adds: "Remember, there are not necessarily right or wrong answers. You are being asked your opinion on the manuscript. Do not assume obvious oversights won't be made by authors. There aren't any silly comments. If something is unclear to you in the 'script, state it. The authors will come back to clarify."
Other tips include reading the manuscript thoroughly before sleeping on it; in other words, taking the time to think about your response. And ensuring that your feedback to the authors and editors is clear and detailed.
A final piece of advice from Dr. Prasenjit Chatterjee, Dean (Research and Consultancy) at MCKV Institute of Engineering in India, who reviews for Sustainable Operations and Computers: "Be willing to accept criticism and focus on quality rather than quantity."
On the equity, diversity and inclusiveness of peer review….
Dr. Abafe is generally happy with the current process, but notes that as long as editorial requirements of journals differ, it will be difficult to achieve equity throughout the industry.
For Prof. Guan, it's important to ensure that journals don't only focus on the well-known, high-impact authors, but pay attention to those starting out on their careers.
Dr. Robinson believes that double-blind peer review can play a key role in creating a level playing field. "I think positive and negative unconscious bias can come in many forms and double-blind peer review minimises this risk to both the authors and reviewers." For Dr. Robinson, another crucial part of the puzzle is ensuring that submissions are paired with the right handling editor. She says: "The editor should have sufficient comprehension of the scientific arena of the article to make an unequivocal decision as to whether the article seems experimentally sound and breaks important knowledge boundaries in the field."
Dr. Yeung would like to see editorial boards reflect a greater range of ethnicities and genders. While Dr. Di Wang believes achieving true diversity in terms of scientific topics is an ongoing challenge. "New research areas are continuously established, and different research fields are being connected and bridged...I think that publishers should be more open to selecting the reviewer database and that interdisciplinary collaboration should be encouraged."
Dr. Chatterjee and Dr. Brem would like to see an expansion of initiatives already offered by some publishers; for example, payment of reviewers or giving reviewers credit to publish without an APC, and publishers recommending alternative in-house journals when a paper is rejected.

Guoqing Guan
Hirosaki University, Japan

Yongjin Zhou
Chinese Academy of Sciences, China

Emma Louise Robinson
Anschutz Medical Campus University of Colorado, USA

Cuie Wen
RMIT University, Australia

Wai Kwok Kelvin Yeung
University of Hong Kong, China

Dawei Wang
Harbin Institute of Technology / RWTH Aachen University Professor, China

Di Wang
Technical University of Braunschweig, Germany

Ovokeroye A. Abafe
Agricultural Research Council, South Africa