COVID-19 resource centre
已发布 09 五月, 2022
Professor Shao Yiming Science Interview
Virologist Shao Yiming, Editor-in-Chief of Infectious Disease Modeling and chief expert on AIDS at China's Center for Disease Control and Prevention (China CDC), sees the COVID-19 pandemic through the lens of HIV. That background has given Shao a broad perspective when it comes to seeing the similarities—and differences—in how nations, including China and the United States, have responded to the current pandemic.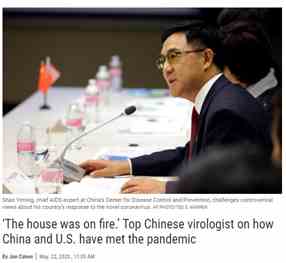 Professor Powell CNN Interview
Prof. Charles Powell, Clinical eHealth board member, has been interviewed by CNN and introduced how to convert CPAP machines into the home ventilator, which allows patients with endotracheal intubation to receive remote treatment at home.
Dr. Chowell-Puente STAT Interview
Dr. Gerardo Chowell-Puente, mathematical epidemiologist and Editorial Board Member of Infectious Disease Modelling, was also recently interviewed by STAT for an article on Covid-19.
Once widely criticized, the Wuhan quarantine bought the world time to prepare for Covid-19
Could cause panic." "Will not help end the crisis." "Could backfire."
When the Chinese government blocked most travel into and out of the city at the center of the Covid-19 outbreak in late January, many public health experts took to social media and op-ed pages to decry the measure as not only draconian and a violation of individual rights but also as ineffective: This largest quarantine in history — the city, Wuhan, has a population of 11 million, and the lockdown has been expanded — would have little effect on the course of the epidemic, they argued.
As the U.S. and other countries imposed travel restrictions, even the World Health Organization questioned whether they were a good idea. But early evidence is causing some disease fighters to reconsider.
Infectious Disease Modelling Authors Interview
Authors of a recently paper published in Infectious Disease Modelling answer questions on the effectiveness of wearing face masks to prevent against the spread of COVID-19 in this recent interview with Phoenix New Times.
'What If I Hate Masks?': 20 Questions on COVID Coverings, Answered by ASU Experts
Foundation Professor Abba Gumel and Post Doctoral Scholar Steffen Eikenberry recently led a team of six other experts to analyze the effectiveness of masks, producing a study published titled "To mask or not to mask: Modeling the potential for face mask use by the general public to curtail the COVID-19 pandemic," the study concludes that mask-wearing by the general public has "high value" in curbing disease.
Why scientists say wearing masks shouldn't be controversial
Cloth face coverings help curb the spread of the coronavirus, studies suggest
Read the Science article covering research published in Infectious Disease Modeling.