Major global health issues topped the agenda at leading international conference
Published 04 July, 2022
This year's The 4th Belt & Road Initiative Global Health International Congress & 2022 University Alliance of the Silk Road Health Forum, held from June 17-19, focused on a range of important topics and hot issues in the field of health. These included:
Interdisciplinary international collaboration
Addressing human challenges
Promoting health for the globe
Over the course of the three-day event, more than 160 invited experts from China and abroad attended, including scholars, university presidents and hospital deans from countries including China, the United States, the United Kingdom, Switzerland and Vietnam. Delegates included two Nobel Prize winners in Physiology and Medicine, Peter Doherty and Thomas Südhof, eight academicians (Junshi Chen, Daiming Fan, Fu Gao, Dongfeng Gu, Weiping Jia, Hongbing Shen, Yiling Wu, Qimin Zhan), several leaders of international organisations, and many authoritative experts at home and abroad. The sessions also received 110,000 views online.
Attendees could choose from 24 forums, which included the following keynote sessions:
Reflections on the prevention and control of Covid-19 and future global pandemics byFu Gao, Director of the Chinese Center for Disease Control and Prevention (CCDC), and Honorary Dean of the XJTU Global Health Institute. He stressed that epidemic prevention and control is not only a scientific issue, but also a political and social issue, and called on all humankind to unite and fight the pandemic.
One Health and the Pandemic Threatby 1996 Nobel Laureate Peter Doherty.
Neurodegenerative Disease Treatment: Challenges and Opportunities by2013 Nobel Laureate Thomas Südhof.
Other sessions focused on topics such as global health, obesity prevention and control, prevention and control of diabetes and chronic diseases, gerontology and healthy ageing, nutrition and health, prevention and control of environmental and endemic diseases, smart medicine (mHealth), active health and healthy China, medical-prevention integration, and research on immune diseases. There were also dialogues with Editors of top international journals.
On behalf of conference co-organiser Xi'an Jiaotong University (XJTU), President Shuguo Wang noted that universities are duty-bound to strengthen the cultivation of talent with international vision and advanced concepts. This will help them to carry forward the spirit of the Silk Road and enhance international cooperation and exchanges. He said: "We believe in the future, we envision the future, and we need to work together for a better future. We can make the future of humankind a more inclusive one. We will transform future challenges into opportunities."
The organising team
The conference was jointly organised by XJTU, Health Sciences Center, Global Health Institute, School of Public Health, the Health Sub-Alliance of the University Alliance of the Silk Road, Obesity Prevention and Control Section of Chinese Nutrition Society (CNS-OPCS), etc. The Guiding Units were the Chinese Preventive Medical Association (CPMA) and the Chinese Nutrition Society (CNS). The conference was co-organised by the International Diabetes Federation (IDF), International Health Literacy Association (IHLA), World Obesity Federation (WOF), China Health Policy and Management Society (CHPMS), International Chinese Nutrition Young Scholar Network (ICNYSN), The XJTU First and Second Affiliated Hospitals, School of Public Policy and Administration, School of Basic Medical Sciences, and Department of International Cooperation and Exchanges. Conference sponsors included Novo Nordisk Region China, FOSUNPHARMA, Chengdu Tianyi Cuisine Nutritional Food Co. Ltd, etc.
The Honorary Presidents of the conference were Yi Lv, Vice President of XJTU, and Yan Hong, former Vice President of XJTU. The conference was chaired by Youfa Wang, Dean of XJTU Global Health Institute and President of CNS-OPCS, Yuexin Yang, President of CNS, and Guihua Zhuang, Dean of the XJTU School of Public Health.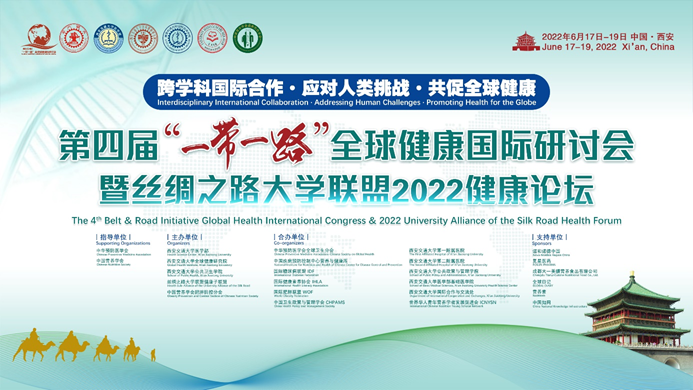 Congress Poster Key Vision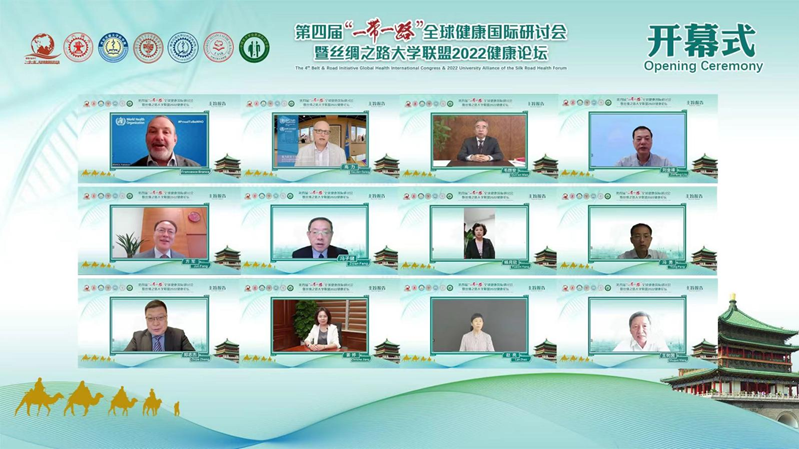 Guest speakers at the opening ceremony