Welcome to 8th European Congress on Advanced Nanotechnology and Nanomaterials
Published 03 April, 2023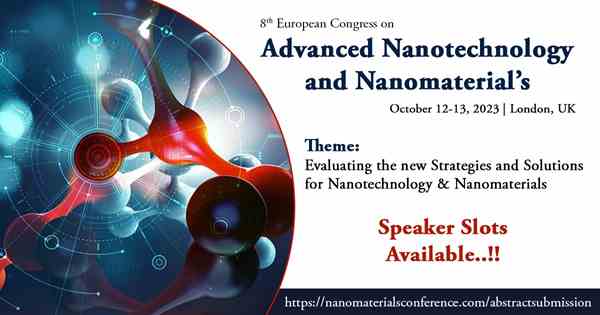 Nano 2022 was attended by over 40 high-level speakers and 50 attendees from all over the world in the field of nanotechnology and nanomaterial. It has served as an excellent platform for academicians, researchers, industry experts and students alike.  
With this splendid success, the Coalesce Research Group invites all the participants across the globe to join us in this year's
"8th European Congress on Advanced Nanotechnology and Nanomaterials (Nano 2023)" during October 12 - 13, 2023 in London, UK..
The event is a cornerstone in the field of nanotechnology and will see keynote presentations, poster presentations and exhibitions on future infrastructure projects plans, government strategies and market-leading innovations. The topics will include advanced nanomaterials and nanotechnology, computational nanotechnology, nanotech for energy and environment, nanophotonics and nano/micro optics, nano engineering and nano applications, as well as carbon nanotubes and quantum nanotechnology.
Nano Materials Science is the publishing partner of Nano 2023. Article processing charge for submissions to the journal will be waived for all conference participants.
Please visit https://nanomaterialsconference.com for more information.