JFDS CiteScore 2022 Announced: 4.9
Published 04 July, 2023
We are delighted to announce the CiteScore 2022* for The Journal of Finance and Data Science (JFDS) is 4.9.
It is noteworthy that this CiteScore has secured rankings of:
#26/262 in Statistics and Probability
#88/609 in Applied Mathematics
#26/160 in Business, Management and Accounting (miscellaneous)
#57/302 in Finance
#156/705 in Economics and Econometrics
#266/792 in Computer Science Applications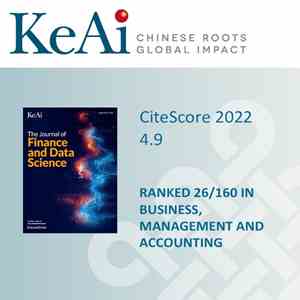 We would like to thank the journal's editorial leadership and reviewers for their efforts and our authors for making JFDS their quality journal of choice.
* CiteScore metrics from Scopus are comprehensive, transparent, current, and free metrics for serial titles in Scopus. CiteScore 2022 is based on the number of citations received in 2019-2022 to 5 peer-reviewed document types (articles, reviews, conference papers, data papers, and book chapters) by a journal in the same four years, divided by the number peer-reviewed documents indexed in Scopus and published in those same four years.