KeAi Talks - Mitochondrial Communications Serial Webinar 4
30 March 2022, 20:00 - 21:30
Time:Wednesday 30 March, 20:00 - 21:30 (Beijing time)
Agenda:
Keeping mitochondria in shape: a matter of life, death and metabolism
Luca Scorrano, MD, PhD
Professor of Biochemistry, Dept. of Biology, University of Padova and Veneto Institute of Molecular Medicine, Padova, Italy
Mitolysosome exocytosis, a novel mitophagy-independent mitochondrial quality control in parkinsonism-like symptoms
Xingguo Liu (刘兴国), PhD
Professor, Guangzhou Institutes of Biomedicine and Health, Chinese Academy of Sciences, China
Host:
Quan Chen, PhD
Editor-in-Chief of the journal Mitochondrial Communications
Dean of College of Life Sciences, Nankai University, China
Contact:
Ms. Huan Guo, huanguo@keaipublishing.com
Zoom link:
https://keaipublishing.zoom.us/j/89281917298?pwd=RjcyL0hYZVdKa09NSFg4c1hjWURLUT09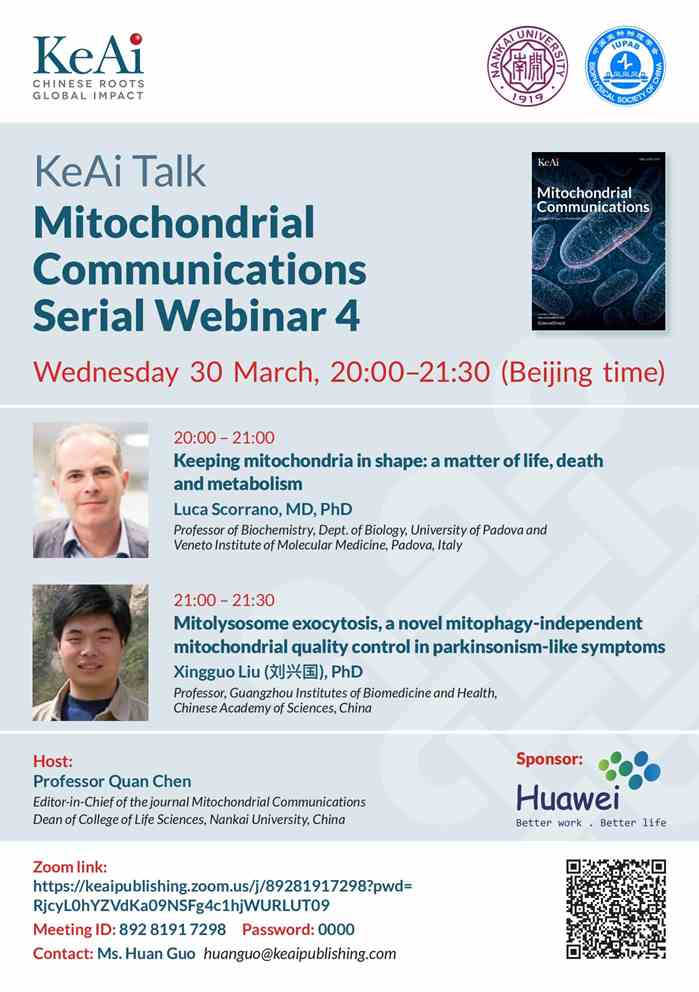 Speaker backgrounds:

Luca Scorrano, MD, PhD
MD: University of Padova Medical School, Italy (1996)
PhD: Dept. of Biomedical Sciences, University of Padova (2000)
Postdoc: Dana-Farber Cancer Institute, Harvard Medical School, Boston, USA (2000-2003)
Group leader: Assistant Telethon Scientist, Dulbecco-Telethon Institute, Venetian Institute of Molecular Medicine, Padova, Italy (2003-06)
Professor: Dept. of Physiology and Metabolism, University of Geneva Medical School, Geneva (Switzerland) (2007-13)
Professor of Biochemistry, Dept. of Biology, University of Padova (since 2013)
Scientific Director, VIMM (2014-20)
Selected awards
Elected Member, Academia Europaea, Section of Biochemistry and Molecular Biology (2019)
ESCI Award for Excellence in Basic/Translational Research, European Society for Clinical Investigation (2013)
Elected Member, EMBO (2012)
Eppendorf European Young Investigator Award, Eppendorf-Nature (2006)
EMBO Young Investigator (2006)
Research
Prof. Scorrano's work addresses the central question of form-function relationship at the molecular level. During his career, he has changed classical tenets in the fields of apoptosis, mitochondrial pathophysiology and medicine. His work on cristae remodelling paved the way for the new field of mitochondrial dynamics. In the following years, his lab discovered that Opa1 works as a molecular staple holding cristae junctions tight, deficient in dominant optic atrophy, targeted during apoptosis and essential in vivo to control tissue damage and to correct mitochondrial diseases, as well as a key factor in angiogenesis that can be pharmacologically targeted to curtail tumor growth; identified the first molecular bridge between ER and mitochondria (propelling the new field of interorganellar contact sites); showed that mitochondria change shape to control autophagy, or to produce progesterone during pregnancy; demonstrated that cristae shape dictates assembly of proteins and efficiency of respiration; discovered a novel pathway of Notch1 signaling controlled by mitochondrial fusion and Ca2+ essential during heart development; and discovered that mitochondrial fusion mounts a metabolic defense against Toxoplasma. He sits on several Scientific Advisory Boards (e.g., Institut Necker Enfants Malades, Paris; IBT Czech Academy of Sciences), on reviewing panels of the ERC, the Flemish Science Foundation, the Finnish Academy of Sciences, and he chaired the EMBO Fellowship Committee until 2020. He is an Editorial Board member of several journals including CDD, Cardiovasc Res, BBA-Mol Cell Res.

Xingguo Liu, PhD
Professor Xingguo Liu received his PhD from Tsinghua University in China in 2007. He then did his postdoc in the lab of Prof. György Hajnóczkyat Thomas Jefferson University in the US. He set up his group at Guangzhou Institutes of Biomedicine and Health, Chinese Academy of Sciences, in 2010. Prof. Liu has been honoured by a number of organisations, including the Distinguish Youth Foundation of China's National Natural Science Foundation. He is Chief Scientist of the National Key Research and Development Program of China, and has received the Guangdong Science and Technology Award in Natural Science, the Shulan Medicine Youth Award, presented by the Academician Shusen Lanjuan Talent Foundation, the 2016 Stem Cell Young Investigator Award from the Chinese Society for Cell Biology, and the Young Bioenergeticist Award from the International Biophysical Society. He is a council member of the Asian Society for Mitochondrial Research and Medicine, and the Biophysical Society of China. Since 2015, Dr. Liu has published 23 research papers as corresponding author. These papers have appeared in journals with an average Impact Factor higher than 12; for example, Cell Metabolism (2016, 2018), Nature Metabolism, Nature Structural & Molecular Biology, Science Advances (2019, 2022), Advanced Science, and Hepatology. Among his papers, three were recommended by F1000, six were chosen as the cover story, and one attracted more than 300 citations. He has obtained six authorized patents (including one PCT). Prof. Liu has been invited to speak at more than 60 international conferences.