The 3rd International Forum on Climate Change and Health Response
Published 21 October, 2019
Sponsors
School of Public Health, Sun Yat-sen University
Guangdong Laboratory Federation for Science and Technology
Guangdong Meteorological Society
Queensland University of Technology
The Asian Initiative for Research on Climate and Air Pollution
It is our privilege to announce that the 3rd International Forum on Climate Change and Health Response will take place in The Asia International Hotel, Guangzhou, China during December 18th-19th, 2019.
This Forum is intended to strengthen the research network on climate change and health, with a particular focus on the Asia-Pacific region. It will provide an ideal academic platform for researchers and policy-makers to discuss the latest developments and advancements in the field of climate change and human health, also to exchange ideas, foster friendships and build new networks. With the support and contributions from all participants, our 1st and 2nd International Forum had been successfully held in Guangzhou in December 2017 and 2018. Totally, more than 500 researchers, journal editors, government officers, and representatives of enterprises and media from over 20 countries attended the conferences.
This year, the Forum has invited a number of world-renowned experts from the USA, UK, Australia, Switzerland, Sweden, Spain, Korea, Japan, India, Singapore, Vietnam, Thailand, Malaysia, Nepal, and China.
Topics to be discussed in the forum will include but not limited to:
Health effects of climate change and public health responses
Weather forecast and early warning for climate-sensitive diseases
Health co-benefits of climate change mitigation strategies
Workplace heat exposure, labor productivity and economic impact
Climate change and health research network for international collaboration
The program will include Keynote presentations, Oral talks, Panel discussion, and Poster exhibitions. Scholars from universities, research institutions, medical and health departments, meteorological and environmental protection agencies, as well as postgraduate students are warmly welcomed to attend the Forum.
Preliminary program agenda is listed as below. A more detailed version will be provided in the second announcement in late October.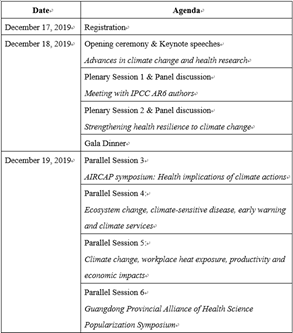 The early bird registration (before November 20th, 2019) fee is 1,600 CNY for regular attendees and 1,000 CNY for full-time students (valid student ID card is needed). After November 21st, 2019, registration fee is 2,000 CNY for regular attendees and 1,200 CNY for full-time students. Please complete the online registration on this website: http://h5.eqxiu.com/ls/y7cNC5cz. We will provide an onsite payment on December 17th, 2019. The registration fee covers conference handbook, lunches, morning and afternoon teas during December 18th-19th, 2019.
We are delighted to make a reservation for you at the conference hotel, The Asia International Hotel, if needed. Deluxe twin rooms with breakfasts for two are 550 CNY per night, and Deluxe double rooms with one breakfast are 500 CNY per night.
The Forum is calling for submissions of English abstracts related to our topics. Abstract should contain title, abstract, author names and affiliations, corresponding author e-mail, and be limited to 350 words. Please submit your abstract as an attachment to Email address: Climate-health-forum@hotmail.com, with a subject of "ABSTRACT-Author Affiliation-Author Name". The deadline for abstract submissions is due on November 20th, 2019. Then the conference organization committee will review all registered authors' abstracts and inform you whether your submission is accepted for post presentation before December 1st, 2019. The conference committee will select several excellent posters and provide awards for authors. Awards will be announced at the conference during the closing ceremony.
For more information, please contact us via e-mail at: Climate-health-forum@hotmail.com. We look forward to seeing you soon in Guangzhou during this December!