Clinical eHealth Launch at IRSD & ATS Joint Symposium
Published 20 November, 2017
KeAi's latest addition to its portfolio of high quality Open Access journals, Clinical eHealth, was officially launched at the International Society for Respiratory Diseases (ISRD) and American Thoracic Society (ATS) Joint Symposium at the Shanghai International Convention Center, on the 17th of November, 2017.
The honorable Editors-in-Chief, Dr. Bai from ZS Hospital Fudan University, and Dr. Chavannes from Leiden University Medical Center, shared their knowledge of the field and spoke in detail about the journal's scope, its mission and objectives. Alicia Lee, the publisher of Clinical eHealth, completed the introduction by providing the publisher's insights on the rationale for this timely new journal.

Three distinguished guest speakers, Dr. Stephen Crane from the American Thoracic Society, Dr. Charles Powell from Icahn School of Medicine at Mt. Sinai in New York and Dr. Kwun Fong from the Prince Charles Hospital and University of Queensland School of Medicine, also showed great support to the journal, sharing their perspectives on the launch as well as their heartfelt advice.
The launch event concluded in a harmonious atmosphere following an awards ceremony, during which Alicia issued certificates to the Editors in appreciation of their early contributions to the journal and to the field at large.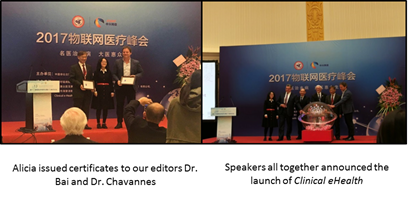 Clinical eHealth now welcomes online submissions via EVISE. With the "coming of information age", Clinical eHealth is receiving an increasing amount of attention in both China and the rest of the world. We aim to create real value for the relevant communities by actively participating in the ongoing development of the area through the global dissemination of high quality research. We would like to express our sincere thanks for all the good wishes and encouragements received at the launch event and thereafter, and we look forward to seeing your future engagement with the journal.