E-waste: the fine line between useful materials and toxic waste
Published 27 July, 2016
Just how dangerous is disposing your electronic equipment the wrong way?
We all know what it feels like to finally agree to get rid of that old computer that has been collecting dust in the attic (yes the one with Windows XP that you can't even pass on to your children for fear of them mocking you). Perhaps you have an old Nintendo 64 in the shed. Or a Nokia 6310 in the kitchen drawer. If you hang on to them for much longer they will be considered antiques. There comes a time in every electronic item's lifecycle when it simply needs to go.
What is e-waste?
The term e-waste can be misleading. A lot of appliances that are disposed are still functional products the users have just outgrown. Or perhaps they are broken but still contain parts that can be recycled.
Waste from obsolete electronic devices and appliances such as personal computers, television sets, mobile phones, printers and refrigerators is generated at a global rate of about 41.8 million tons per year, according to a press release by United Nations University.

Currently, large quantities of this so called e-waste are recycled in both developed and developing countries because it contains considerable quantities of valuable and reusable metals, plastics, glass and other materials. Cell phones and other electronic items contain high amounts of precious metals like gold or silver. Americans dump phones containing over $60 million in gold and silver every year1.
The use of certain e-waste-processing methods, such as open burning, especially in the developing world, has become an important issue in the last decade because of the adverse human health impacts of these methods.
A team of scientists led by Dr. Go Suzuki of the Center for Material Cycles and Waste Management Research in Japan has been investigating e-waste-processing activities in Bui Dau, a village in the My Hao district of northern Vietnam. They wanted to clarify the current levels of contaminants associated with various types of e-waste processing. They also monitored the 3-year temporal trends, not only of chemicals that may be initially present in e-waste, such as phosphorus-containing flame retardants and heavy metals but also of hazardous chemicals that may be generated during e-waste processing, such as chlorinated and brominated dioxins and dioxin-like compounds.
What are dioxins?
Dioxins are environmental pollutants. They belong to the so-called "dirty dozen" - a group of dangerous chemicals known as persistent organic pollutants (POPs). Dioxins are of concern because of their highly toxic potential. Experiments have shown they affect a number of organs and systems.
Once dioxins enter the body, they last a long time because of their chemical stability and their ability to be absorbed by fat tissue, where they are then stored in the body. Their half-life in the body is estimated to be 7 to 11 years. In the environment, dioxins tend to accumulate in the food chain. The higher an animal is in the food chain, the higher the concentration of dioxins.
Source: World Health Organization (WHO)
Intensive versus non-intensive e-waste processing
It's perhaps no surprise that many researchers have already concluded that intensive e-waste processing — such as open burning — is harmful to the environment and to human health. However, in this study, they wanted to provide data for environmental samples collected from areas where nonintensive processing activities such as collection, storage and manual dismantling of e-waste were conducted. The levels of flame retardants (FRs), such as polybrominated diphenylethers (PBDEs) and possible alternatives, have also been reported by Matsukami et al2 and Someya et al3, and data for heavy metals will be reported in the near future. Environmental contamination by PBDEs remains high, but contribution of alternative FRs increased during the 3-years investigation. Environmental contamination by FRs might have changed owing to international regulations of POP-PBDEs.
Dr. Go Suzuki, Senior Researcher at the Center for Material Cycles and Waste Management Research, National Institute for Environmental Studies (NIES) in Japan, gives us more background:
The results obtained from this study elucidated the levels, possible sources, and temporal trends in the levels of persistent dioxin-like compounds in surface soils and river sediments collected in and around an e-waste-processing site in a village in northern Vietnam. Dioxin-like compounds were found to have accumulated in samples collected in areas where e-waste-processing activities such as open burning and open storage were conducted, as well as in areas near e-waste processing workshops. Moreover, our results indicate that dioxin-like compounds derived from e-waste-processing activities such as open burning may be transported from their source to surrounding areas over the course of several years.
Our findings indicate that open burning and open storage of e-waste should be prohibited and that wastewater treatment measures should be implemented at each e-waste-processing workshop to reduce pollution by e-waste-derived, dioxin-like compounds.
After 3-years investigation, we had a face-to-face meeting with e-waste-processing workshop owners and workers at Bui Dau under the collaboration with Chairman of Cam Xa commune-My Hao District. It was an excellent opportunity to discuss e-waste issues and countermeasures to reduce chemical pollution. We believe this is an important first step in educating the local e-waste workers and making them aware of just how important their actions are in reducing the pollution. Our final goal is to share how to conduct a sustainable e-waste processing in the Asian-Pacific region and the developing world.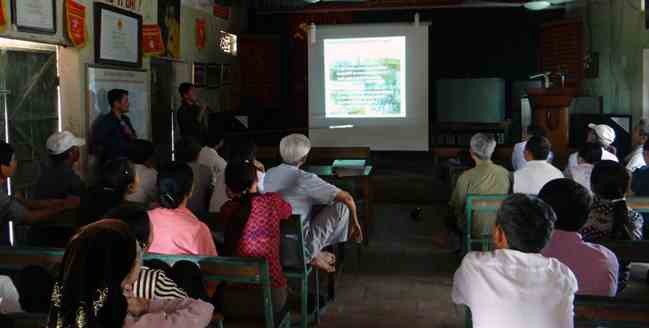 Further Reading
These articles are published open access:
References
1. Greg Voakes, "The Lesser-Known Facts About E-Waste Recycling," Business Insider (October 2012)
2. H. Matsukami, N.M. Tue, G. Suzuki, M. Someya, L.H. Tuyen, P.H. Viet, S. Takahashi, S. Tanabe, H. Takigami, "Flame retardant emission from e-waste recycling operation in northern Vietnam: environmental occurrence of emerging organophosphorus esters used as alternatives for PBDEs," Science of the Total Environment (May 2015)
3. M. Someya et al: "Occurrence of emerging flame retardants from e-waste processing activities in the northern part of Vietnam," Emerging Contaminants (June 2016)