The 2022 Best Paper Award of J. Pipeline Sci. Eng. Announced
Published 14 February, 2023
Since the initial issue of Journal of Pipeline Science and Engineering, the Editorial Board had established the yearly Best Paper Award for papers published in the preceding year. A certificate will be conferred to the author of the award-winning paper for his/her outstanding contribution to the journal.
Upon the appraisal and recommendation of the Editorial Board, the 2022 Best Paper Award went to the paper "Resilience assessment of a subsea pipeline using dynamic Bayesian network", published in Volume 2, Issue 2, 2022 of Journal of Pipeline Science and Engineering. The paper, which provides good guiding significance for the practice of offshore pipeline engineering, was written by Mohammad Yazdi, Faisal Khan, Rouzbeh Abbassi and Noor Quddus. It has been cited 14 times within a year since its publication.
Dr. Faisal Khan, the corresponding author, is a chair professor of Texas A&M University, the director of the Process Safety Center, and the former chief scientist in the field of marine safety and risk engineering in Canada. He mainly engages in the research on safety assessment, risk and reliability of engineering structures, and has rich experience in safety and risk assessment of marine engineering.
In 2022, a total of 29 papers had been published in the Journal of Pipeline Science and Engineering with the joint efforts of all the publishing staffs and the Editorial Board, covering both the current developments and challenging in the field of oil and gas storage and transportation. We hereby express our sincere gratitude to the institutions and individuals that have provided support and assistance to the development of the journal.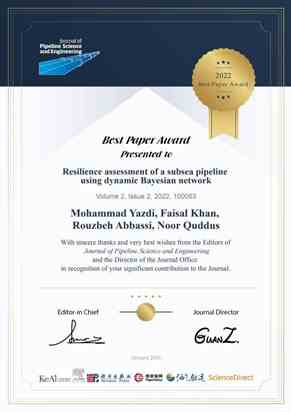 You can access the award-wining paper here.
Thank you for following, forwarding, reading the news and submitting your paper to the Journal of Pipeline Science and Engineering.